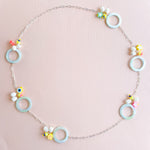 Jewelry Make Tutorial: Palm Beach Chain-Linked Necklace
Welcome to our new source of day-dreaming: the necklace we have lovingly named Palm Beach Dreams. This crowd-pleaser has aqua mother of pearl circles with dangling baubley bits of freshwater pearl, polymer, & specially cut crystal rondelles.
We used small silver paperclip chain, but of course we aren't here to limit anyone - gold chain, multiple chains, or different beads for that matter could all add very cool effects to this piece.
Each mother of pearl has two headpins holding it to its chain link to the left & to the right, along with a jump ring + wire-wrapped beads on headpins on one of the sides.
What Do I Need To Make My Own Palm Beach Chain-Linked Necklace?
For a more in-depth look at charm linked chains, check out the full length tutorial below: