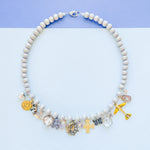 Jewelry Making Tutorial: Gray Wood Charm Necklace
This charm-filled necklace fits right in with our pantone colors of the year, but also provides tons of interest & individuality through the selection of charms. check out our collection of gray & yellow products here.
We chose to use a neutral gray wood round to balance out the multi-dimensional metallic tones of the pewter beads & charms. You will notice that there is an extra bead between the wood rounds once the charm extravaganza begins, put in place to allow the attached charms to move around a little more freely than if they were just strung in between the wood rounds. We used closed (soldered) jump rings to string our charms & beads for extra security.
Some of the charms required extra jump rings, even if they have their own bails. We made the loose beads into a charms by wire-wrapping. Visit our turn any bead into a charm project or our how-to wire-wrap learn page for more information about that process. 
Once the necklace was strung, we finished it off with an extra crystal on either side & attached the finishing touches. For help with crimping on beadalon visit our how-to crimp learn page. 
What Do I Need To Make My Own Gray Wood Charm Necklace? 
 For a more in-depth look on charm making, check out the full length tutorial below: