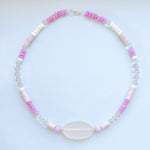 Jewelry Making Tutorial: Orchid + Yogurt Shortie Necklace
Pigmented orchid dyed jade & soft lavender polymer stand out in this simple, patterned piece. Using a symmetrical design tends to be quite pleasing to the eye, especially on a shortie like this one. 
This necklace was inspired by one of our recent edits, lavender feels, which you can check out here.
We paired our brilliantly hued dyed jade beads & yogurt polymer with some white faceted howlite rondelles, transparent glass rounds, and a large pearlized acrylic oval coin for a more eye-catching finish. This piece was a custom order, and includes several beads we do not have exact matches for online, including the petite purple polymer discs between the glass rounds & the larger crystal spacers. The crystalline glass available on the site is slightly larger than the 8mm rounds seen here. Feel free to reach out to us if you are interested in this piece or one like it!
Of course we finished off the piece with our silver crimps, lobster claw clasp, & soldered jump ring. for help with crimping on Beadalon visit our how-to crimp learn page. 
What Do I Need To Make My Own Orchid + Yogurt Shortie Necklace?
For an in-depth look at crimping on Beadalon wire, check out the full length tutorial below: