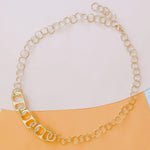 Jewelry Making Tutorial: Gold Soda Tab Chain Necklace
this quick and easy necklace layers well with other necklaces, but is chunky enough to stand on it's own.  
cut your desired lengths of chain, & simply use pliers or crimpers to open the heavy duty jump rings & attach as many as you please! then attach the soda tab section to the chain.
we used an extra jump ring to attach our lobster claw clasp, because we used large chain, but this is up to you. 
this can be done with any chain or clasp.
What Do I Need To Make My Own Gold Soda Tab Chain Necklace?
For an in-depth look at jump ring jewelry check out the full length tutorial below: