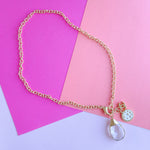 Jewelry Making Tutorial: Cyndi's Chain Necklace
this necklace is for Cyndi, one of six moms who inspired our Mother's Day collections & projects. to see Cyndi's Collection, click here.  
this necklace is simply, and, simply put, making a glamorous statement. we paired sturdy brushed gold cable chain with an oversize lobster, jump ring, & three different pendants with shiny gold & crystal. 
need some guidance when it comes to working with jump rings? check out our mad skills: working with jump rings page here.
as always, you're more than welcome to use this stack as a source of inspiration, a starting place, or as a step-by-step guide. to achieve this exact stack, string the materials listed below on your beadalon as just as the necklaces show. for a similar look, mix up the patterns from our stack, or add your own personal touch with extra strands or even a pop of color!
What Do I Need To Make My Own Cyndi's Chain Necklace ?
2ft of 8mm Brushed Gold Oval Cable Link Chain
one 28mm Teardrop Crystal Shiny Gold Bail Pendant
one 23mm Pave Enamel Moon + Stars Pendant
one 19mm Bright Gold Pave Interlocking C Pendant
one pack of 27mm Brushed Gold Lobster Claw Clasp
one pack of 12mm Heavy Duty Brushed Gold Open Jump Ring
one pack of 12mm Heavy Duty Shiny Gold Open Jump Ring
one pack of 8mm Brushed Gold Open Jump Ring
one pack of 6mm Brushed Gold Open Jump Ring
one spool of 22G Non-Tarnish Gold Wire
one pair of Designer Wire Cutters
one pair of Designer Round-Nose Pliers