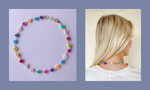 chain-linked polymer smileys necklace
we created this unique "chain" by wire-wrapping polymer clay beads together, creating links that hold the necklace together. however, what's really special about this necklace is the finishing touch added to the clasp. at the end of the necklace, instead of simply wire-wrapping one jump ring, we opted to use two heavy duty jump rings, connected with a wire-wrapped mother of pearl star bead. of course, any bead could take the place of the star, or a necklace the complete reverse of this design could be created, etc.
this piece can be worn as shown, or backwards, so that the decorative clasp accessories are more easily admired by passers by. 
for an in-depth wire-wrapping/chain linking tutorial, click here.
products used:
10mm Rainbow Smiley Face Polymer Clay Strand (we didn't even use the whole strand!)
11mm Mother of Pearl Star Bead Pack
12mm Shiny Gold Heavy Duty Jump Ring Pack
12mm Shiny Gold Lobster Claw Clasp Pack