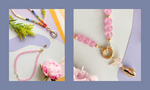 for these two necklaces, we used rainbow glass roller beads, mother of pearl rounds, a large crystal pendant, matte magenta glass beads, a gold plated cowrie shell, and mother of pearl dove bead. both necklaces are strung on beadalon, crimped, and finished off with gold wire and jump ring, attached to a charm enhancer. the charm enhancer not only attaches the pendants, but holds both necklaces together. 
if you'd like to create your own necklace in this style, create two segments of the necklace, strung identically, and finished on one end just like you would do with a necklace that is one segment (clasp/jump ring). on the opposite ends, crimp off after stringing the beadalon and french wire through a closed jump ring, which you will attach to the charm enhancer. 
for help with finishing off a beadalon necklace, or necklace segment, including crimping, click here. 
for an in-depth wire-wrapping tutorial, which is how we created the cowrie shell + dove pendant, click here.
products used:
9mm Matte Magenta Frosted Glass Rounds Strand
20mm White Mother of Pearl Dove Bead Pack
8mm Multicolor Glass Roller Beads Pack
6mm Smooth Mother of Pearl Rounds Strand
13mm Gold Plated Backless Cowrie Shell Pack
4mm Gold Hematite Round Strand
8mm Shiny Gold Soldered Jump Rings
15mm Shiny Gold Charm Enhancer Ring (currently out of stock, replace with 18mm Shiny Gold Charm Enhancer Ring)