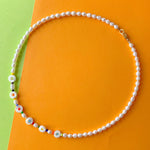 rice pearl + seed bead necklace
these dainty rice pearls are the perfect companion to colorful + bright glass seed beads. our larger seed bead pack, 3mm, fits right into the 5mm mother of pearl circle beads.
we strung about 6-7 inches of pearls onto beadalon, and then added a seed bead, followed by a mop circle with a seed bead inside, over and over again until we had about 3-4 inches of the colorful pattern. we attached a clasp and crimped the necklace as usual! for help with that, check out our crimping tutorial here. 
then, we went the extra mile and made a pair of earrings to match! these babies are sweet and simple, matching not only this necklace, but pretty much anything with gold or pearls of any kind. to attach the mother of pearl circles, we strung a headpin through one of the two holes, and made a loop with the rest of the headpin that we put the earring wire through. 
products used:
4-6mm white freshwater pearl strand
6mm brushed gold closed jump ring
12mm brushed gold lobster claw clasp