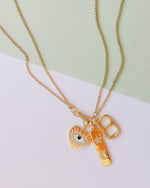 Jewelry Making Tutorials Tutorial: Rolo Chain Long Pavé Charm Necklace
we offer our rolo chain in several sizes & finishes, but brushed gold always makes a good choice. for this piece, we wanted to let the larger statement charms shine, but used a doubled chain for a balanced look. we went for a modern, celestial vibe with this necklace & chose a heart-shaped pave & enamel evil eye, a pave star & moon charm, & one of our shiny gold soda tab charms. 
all you need to do is double your desired chain length & attach the first & last links on each segment to jump rings. we used two segments of chain that are each 2 feet long, so 4 feet total. for our smaller jump rings, we used 4mm. if you create a necklace in this style with a larger size of the rolo chain, or any other larger chain, consider sizing up your jump rings to keep a similar aesthetic.
then, attach these smaller jump rings to a larger jump ring, one on each side. we used 6mm jump rings. both the 4mm & 6mm rings are our shiny gold open (unsoldered) jump rings.
attach a swivel clasp to one of the larger jump rings & finish off with whatever charms you please! these can be switched out at any time to update your look as often as you like.
What Do I Need To Make My Own Rolo Chain Long Pave Charm Necklace?
For an in-depth look at easy jump ring jewelry, check out the full length tutorial below: