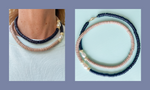 Jewelry Making Tutorial: Two-Tone Wood + Pearl Necklace
This necklace can be worn long, or doubled up as a two-strand-shortie. Featuring muted beige wood, neutral black wood, sparkling gold details, and large baroque pearls, this piece is a fall staple for any style.
WHAT DO I NEED TO MAKE MY OWN TWO-TONE NECKLACE?
STEP-BY-STEP INSTRUCTIONS FOR MAKING A SIMPLE TWO-TONE WOOD + PEARL NECKLACE 
STEP 1: CUT YOUR BEADALON
For this necklace, we'll be using two full strands of 8mm Wood Rondelles, approximately 16" each. We cut about a 40" segment of Beadalon wire, giving us plenty of room for crimping. Simply use your wire cutters to snip the Beadalon where you would like. 
STEP 2: STRING YOUR BEADS / DESIGN
Begin stringing your beads by stringing an entire strand of wood. It's important that we save crimping until the entire design is strung, because we'll be adding beads to both ends of the fully strung first wood strand. 
Once the first strand (we started with 8mm Wicker Wood Rondelles) is fully strung, string one of the 10mm Stippled Gold Spacer beads, followed by a Baroque Pearl, and another spacer.
Next, string about 3/4 of the other strand (we used 8mm Midnight Wood Rondelles). We recommend using a piece of scotch tape to prevent beads from becoming unstrung while you finish stringing from the other side. 
Going back to the other end of the first strand of wood you strung, string the same pattern of a spacer, pearl, and spacer, followed by the last 1/4 of your second wood strand. No need to measure.
STEP 3: CRIMP
Once your design has been strung, choose one side to crimp off first. To recreate this design exactly, we'll start with the longer midnight wood side, and attach the jump ring. We chose a 6mm Shiny Gold Soldered Jump Ring.
Secure the opposite end of the necklace with scotch tape. String on a 2mm Gold Filled Crimp, followed by a 6mm Jump Ring. Loop the beadalon wire around the jump ring and back through the crimp. String it through several of the wood rondelles as well. The jump ring should be able to move and turn, but still secure. 
Hold the jump ring in your non-dominant hand, and pull the tail of the beadalon (through the crimp and several beads) to tighten and adjust. Next, use your crimping plier to flatten the crimp bead on the beadalon. Once secured, use your wire cutters to snip off the excess beadalon cord.
For the other side, you'll repeat the process, but creating a secure loop becomes a little more tense since the first side of your necklace is already secure. Check out the video below for more help on using Beadalon and crimping!