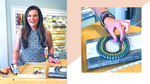 Daydreamer stretch bracelet making kit
Hey y'all, Christine here. Today we are going to be talking about another one of our jewelry making kits: The Day Dreamer Stretchy Bracelet Making Kit. This stretchy bracelet kit is perfect for beginners at jewelry making or people that have made jewelry before, but who just want an easy, simple, quick project. We've got both step-by-step instructions and a video tutorial on this project below. This stretch bracelet stack is a fun jewelry making project that you can come back to time and time again. It's also something that's great for the whole family. It's a great kit for kids too – perfect for little fingers.
I love making stretch bracelets because they work if I have a definite style in mind that I want to create, but they are also something that I can wear with everything.
Here's a link to another one of my favorite stretch bracelets make: stretchy charm bracelets. 
All of our stretchy bracelet making kits have materials and beads to make at least ten to twelve bracelets, depending on your wrist size and the designs that you create. 
Let's get started by going through everything that comes in this jewelry making kit. It contains all the supplies you'll need for this jewelry making project!
The thing that is awesome about these kits is that you don't need any special tools. You can use some sharp scissors that you might have at home, and a little bit of Scotch tape will be helpful. If you have designer wire cutters at home, you could certainly use those, but you don't need to. 
 Want to see all of our video tutorials? Check out and subscribe to our YouTube channel.
Helpful tips for making stretch bracelets
Before we get started with the fun parts – designing and stringing these bracelets, I'll give you a few of my favorite tips that will make the process a little easier and a little more fun. 
How to keep your stretchy bracelets from stretching out 
This is one question that I get a lot. We definitely don't want your beautiful creations to stretch out as you wear them, so here's what we do to prevent that. We're going to start by cutting about a foot or so of our Stretch Magic stretchy cord for each bracelet. 
The first tip to prevent your bracelets from stretching out is to use Stretch Magic as your stretchy string. It really makes a big difference to use a high-quality stretchy cord like this. This kit includes the one-millimeter stretch magic. It is the largest size that we sell. So, it's nice and strong, and very durable. 
One more tip to make sure your bracelets don't stretch out is to pre-stretch the stretchy string. It helps get any extra slack out, so we don't have extra space between the beads as we wear these. They will hug tight to the wrist. And it's also going to keep our bracelet from stretching out as we're wearing it.
How to easily string your beads
And then I just like to put a little piece of Scotch tape at the end. That way I can string my beads on one end and not have to worry about them falling off the other end of the string as I work. 
Another great tip is stringing multiple beads at once. This is especially helpful with smaller or slimmer beads like the polymer clay beads. A great way to string multiple polymer clay beads at once is by holding several in between your fingers and slipping your stretch magic through a handful at a time. It makes the stringing process go a little bit faster. 
How to easily store your beads
You'll notice that all of the bead strands that come in the kit are held together by fishing line that is tied off with a knot at the end. To use the beads, you can simply slip a couple of beads past the knot in the string they are stored on. That way, you can keep the beads you have yet to use strung on the temporary string, so they don't create a mess.
Then when you are done creating for the day, you can just tie these off the strands way that they were originally by slipping that piece of fishing line back through the end of the last bead. And will hold safe for another day. (I demonstrate how to do this at the end of the video after I am finished making the bracelets.) So that way, all of your strands are ready for you to revisit on another jewelry making day. 
Let's get started making our stretchy bracelets!
How to make stretchy bracelets 
Step 1: Design your bracelets
I love these kits because they give just the right amount of structure to allow you to design freely. All of the beads we include look great together, so you don't need to worry about anything clashing. Because we carefully curate the supplies, you can feel free to have fun creating. We always strive to increase your inspiration and creativity. 
Sometimes, if I don't have a specific design in mind, I like to be a little bit random about how I string these beads. Of course, you can pick out a really particular pattern. Using a bead mat to layout the design makes it easy to make adjustments as you string. If you don't have a bead mat, try using a thick piece of fabric like a placemat to lay out your beads. It won't be the perfect surface, but it will control the beads, so they don't roll away.
Step 2: String your bracelets
Whether you have a design planned out, you're going to design as you go, or you're going to string beads randomly, we are ready to put our beads onto the string.
So first, I will string on a few of the polymer clay beads. In the video, you can see how I undid this in the way I described above, with my little excess string on there helps me pull several off at once while keeping the string intact. You definitely don't want to have to string these polymer clay beads all one at a time. It'll take you a little while. So keeping them all on the temporary string is a big timesaver.
And then maybe I'll add a gold bead or two. And, then, maybe one of our beautiful, handcrafted accent beads. And a few more of the polymer clay beads. And then I'll start to look at what I might want in the center. So maybe I want some accent beads. Couple more polymer clay. And another accent bead. Then string a few more polymer clay beads.
You'll notice I always kind of end with my focal point on my bracelet. You certainly don't have to do that. But that helps me know for sure that I'm going to end in a bead that has a nice large hole. The reason that that's important is because it's going to give us a hole that's large enough to hide our knot.
Now, I want all of my bracelets to be approximately seven and a half inches in length. That's going to be a pretty good average wrist size. So, I'm going to aim for that for my finished length for my stack of bracelets. You could certainly start by trying these on yourself, too, and make sure that's a comfortable length before you tie them off.
Step 3: Tie the bracelets
I'm going to string a few bracelets and then tie them all off together at one time.
I love how these start to come together as a coordinated set once you've made a few. You can see they're going to make a really beautiful stacking set. 
Right before you tie your bracelets, go ahead and pull on them to stretch that stretchy string just a little bit more to get more of our excess stretch out of that bracelet.
To tie the bracelets, start by tying one simple knot. Pull that tight. Then tie a second knot and pull that tight. And sometimes I'll have room for a third knot. To tell if I am going to have room, I look at the hole of the bead next to the knot. We will want to slip the knot inside that bead to hide it once it's tied. So we want to check out that bead to see if it can house two knots or three. If you don't think you'll have room for three knots, two knots is just fine. 
Then we will want to use the Super New Glue to secure the knots.
We love Super New Glue because it's really fast drying jewelry glue. Just put a little drop of that on our knot and then pull the knot, so it gets lodged inside these beads right here. Then give that a few seconds to dry while we tie off our next bracelet. 
Once you've tied the second bracelet, you can go back to the first and snip off any extra stretchy cord you have leftover. This is where you can use your wire cutters if you have them, or sharp scissors and snip off the string nice and close. 
After making three bracelets, you can see in the video that there are a lot of these beads that I haven't even touched yet. So, I could keep on going and creating a lot of fun, different patterns, and colorways. 
Thank you so much for watching. And don't forget to check out all of my other jewelry making videos.
Shop all of our stretchy bracelet making kits by clicking this link.