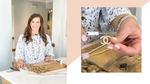 How to make stretch bracelets with charms
Have you ever wanted to make a stretchy bracelet stack with charms? Today, we are going to learn to make our own! I love this new spin on charm bracelets - it's a stretchy metallic hematite bracelet with a special charm dangling off each one. I love the look you get when wearing a whole stack of these gold bracelets. A double or triple stack is such a unique spin on a charm bracelet look that really fits with spring jewelry trends.  
We will start with a supplies list, a quick overview of the steps, and then I'll go into detailed instructions on how to make these stretchy hematite charm bracelets. Let's get started!
Watch my video tutorial here and find the written instructions for each step below. 
Stretch charm bracelet supply list
Here's a list of the materials that we're going to need to create these bracelets:
6mm gold metallic hematite rounds
6mm silver metallic hematite rounds
1mm Stretch Magic (stretchy string)
2 pairs of needle nose pliers
Super new glue
Here are some of my favorite charms (click the image to shop):
How to make a stretch charm bracelet (full instructions below):
Make the bracelets by stringing the hematite beads onto stretchy string.
Attach jump rings onto the charms to prepare them to be strung onto the bracelets.
Attach the charms to the bracelets you've made.
Tie the bracelets to finish the project.
Step one: Make the stretch bracelets
I'm going to start by using a 6mm silver or gold metallic hematite round. We have these in strands on the site. They're so beautiful and very durable. We can usually get about two bracelets out of just one strand. Stretch Magic is the brand of stretchy string that we recommend using to make all of our stretch bracelets because it doesn't stretch out. This is a one millimeter Stretch Magic.
Cut a piece of stretch magic that is 3-4 inches longer than you want your finished bracelet to be. One trick that we use to make sure our bracelets don't stretch out later, is to pre-stretch our stretchy string.
After we do that, we are going to string those hematite beads on our stretch magic.
You can use a piece of scotch tape on one end to ensure the beads don't slide off one end as you are stringing them on to the other end.
Step two: Prep the charms
Then we're going to select the charms that we want to hang off of each bracelet. We have an extensive collection of charms on our site. I just love the variety that charms can bring to a bracelet stack. These stretchy hematite bracelets are such a trendy, modern update to traditional charm bracelets. I'm excited to wear these all spring and summer.
Check out our charm selection by clicking here.
One thing that I like to do is add additional jump rings to the top of those charms. That's going to ensure that they really dangle and have plenty of movement once they're on the bracelets. Without the extra jump rings, the charms may not dangle like we want them to. That movement really contributes to the overall look of the bracelet stack, assuming that we're going to wear multiples at a time. And don't be afraid to mix silver and gold, too!
So, if we have a charm that has an existing bale, which is like a built-in loop, we can go ahead and add a jump ring to that so we achieve that motion in the charm. We will use a four millimeter or six-millimeter jump ring.
To attach the jump ring to the bale on the charm, use a couple of pairs of needle-nose pliers to rotate open that jump ring. Then rotate it back closed, bringing those sides flush together.
Then, you can choose to add a second jump ring, if you want. I'm going to add one more jump ring. This one's going to be just a little bit smaller. You could certainly use another 6mm jump ring if you want. Using the same technique that I used for the first ring, I'm going to open the ring, link it through, and close it back up. Now our charm is ready to go.
Pro tip: How to string our interlocking C charms
One question that we get a lot is how to string interlocking C or designer C pendant charms? To use these charms, we need to make sure the center is kept clear of wire. These pendants have multiple holes as well. When we want to make this into something that's going to drop down or use it as a pendant or a charm, I use this technique to prepare the charm for use in my jewelry making. I like to take a piece of 22-gauge wire (or you could even use a thicker gauge). You'll need a piece that's probably four to six inches long.
Use the holes at the bottom to string about half the wire in one side of the designer C pendant. Thread the other half of the wire in the next hole over. We will need to use the holes that are located under the vertical portion of the C's. That way, we keep the wire out of the open middle area, so it stays hidden.
Now we have both ends of the wire on the top of the charm. We want to crisscross the wires and twist a few times, kind of like how you might use a headpin.
Use wire cutters to snip off my excess on one of the wires, so now you just have one working wire. Then, use your round nose pliers, holding them slightly above the charm, with a little bit of breathing room. Wrap the long end of the wire down and then around the round nose pliers. You'll end up with a loop at the top (wrapped around the pliers) with the remainder of the wire sticking out at a 90-degree angle.  
Now take the long end of the wire, the part sticking out at a 90-degree angle, and then just twist, twist, twist, three times or so. The idea is to wrap the wire around the area of wire that is sticking up out of the top of the charm. The area between the top of the charm and the loop held by the pliers will become wrapped in wire.
I'm ready to snip off my excess wire. Now you'll have a secure loop coming out of the top of the charm. You can turn this loop just a little bit to reposition it in line with the front of the charm. If for some reason, you can see the wire through the middle of the charm, you can move it out of view by spinning your round nose pliers around in the opening until it's clear.
Now, this is ready to be made into a charm for my next bracelet. 
At this point, I am going to add a jump ring or two to the top of this charm in the same way I did with the other charms. Again, I'm using my needle nose pliers to open up that jump ring, link it through, and close it up. Then, I'll do the same thing with a second jump ring. Now, this designer C charm is ready to go on our charm bracelet.
Step 3: Attach the charms
String the charm onto the end of my existing stretch bracelet. Make sure to double check that the bracelet has already been pretty stretched.
Step 4: Finish the bracelets
To finish the bracelets, we're going to tie one knot and pull it tight. Then make a second knot and pull that tight. Then we will use a tiny drop of our super new glue to secure the not. After the glue dries for just a few seconds, we will pull that knot, so it gets lodged inside the hole of the bead next to it. That way, you won't be able to see the knot in the string because it will be hidden in the next bead over.  
Now make the next bracelet in the same way. String the charm onto the bracelet you've made. Give our stretch magic another little pre-stretch. Then we will create the same secure knot by tying one knot, pulling it tight. Then tie a second knot and pull it tight. Now apply a tiny drop of my super new glue and then just pull that knot so it gets lodged inside the hole next to it. Use your wire cutters yo just snip off any excess stretch magic.
Step 5: Create your stack
Then I put these all beautiful stretch charm bracelets together and I get such a great stacking effect. These DIY bracelets make a perfect for a gift or something to wear yourself.
Thank you so much for watching this tutorial on how to make a stretchy bracelet – these are some of my favorite trendy jewelry pieces to make. Don't forget to check out all of my other jewelry making tutorial videos.
 Pin this image to save this jewelry making tutorial for later!