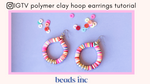 How to Make Polymer Clay Hoop Earrings
Today in our jewelry making tutorials for beginners and advanced makers alike we are making DIY colorful hoop earrings out of polymer clay beads. We are using our kitchen sink polymer clay beads, which is our best-selling color. These colorful bead strands have a little bit of every color in them, including neon polymer clay, so they are super fun for summer.  We love coming up with new project ideas using these beads. We are going to add some gold accent beads to our hoop earrings. The nice thing about making a hoop out of these polymer clay beads is that we are going to make thick hoop earrings but they are will be super lightweight.
These colorful hoop earrings are a great casual accessory that we can throw on with anything. I've had some requests for this video tutorial, so I am excited to show you all how to make these earrings. Watch the video tutorial below to see how it's done and then follow the step-by-step instructions below the video as you go along each step to make your own hoop earrings.
Here's what you'll need to make these colorful hoop earrings:
Kitchen sink polymer clay beads (I used 8mm in the video)
Or use any color combination you chose – check out all colors here
Step-by-step instructions for making hoop earrings
Now let's walk through the steps of how exactly we're going to do this. Each one of these steps is shown in the video. In fact, they are shown twice, once for each earring, so you can see exactly how we make these. If you need some more help with techniques, check out our Learn page where we have short videos that show close-ups of basic jewelry making techniques. Please feel free to reach out to me with any questions you may have about jewelry making, email me or ask in the comments below.
Step 1: Prepare your wire
So we're going to start with some 22 or 20 gauge gold non-tarnish wire. We sell this on the site in several different gauges. You could certainly use a thinner or thicker gauge, just depending on what you have on hand. But this is what I'm going to work with. I think the 20 gauge is going to hold its shape the best. I'm going to use two pieces, probably about a foot long.
I always like having too much wire, rather not enough. I think that that is just going to make your life a little bit easier when you go to tie this off. And then I'm just going to make one little bend about a few inches off the end from each one.
We want to string both of our earrings before we tie each of them off. So that way we can make sure they're exactly the same and we don't have to do the guesswork later.
Step 2: String polymer clay beads
Now we're going to take our polymer clay beads and string them onto the wire that we've cut.
I'm going to work with the eight-millimeter polymer clay here and transfer our beads on to our wire. 
And we want to pinch this and hold them in between our fingers to transfer them. It makes it go a little bit faster.
Step 3: Add accent beads
And then we're going to add a little accent here in the center with gold beads and gold wood beads and maybe a little gold saucer. And then we're back to stringing the other side of our polymer clay. I want to make sure that we have the same amount of polymer clay beads on each side of the accent beads, so that way the accent beads will be at the bottom of the hoop. I just kind of eyeball this. You could certainly count the beads on each side if you wanted to, but you don't have to.
Step 4: Make your second earring to match the first
Pro tip: lay the first earring flat while I make the second way. That way I can line them both up next to one another to make sure that I have the same exact length on both earrings. 
We are going to make the second earring the same way we made the firs. String all of the polymer clay beads on for the first portion of those beads. Then pause to check to make sure the length of the polymer section matches the length on the first earring. Then just duplicate our little center with gold saucers and gold wood beads. And then we'll add some more polymer clay. Then, do another check to make sure everything is the same size as the first earring.
Step 5: finish your earrings
This is the part where we create the hoop. So we will bring the two ends what we have strung together to create the circle shape. Then we are going to twist the two excess wires together so the hoop shape will stay together. So take a firm grip on one side and kind of twist tie it around the other side. So you are wrapping those wires around each other to secure the hoop. Twist them at least three times to make sure it's secure. Now we are going to snip off one of the extra wires and keep the other one. So use your wire cutters and snip off ONE of the pieces that was used to coil. So now we have our hoop with one long wire sticking out.
Sometimes I like to add an accent bead that will sit on top of my hoop and underneath my earring wire. For this design,  I'm going to use a gold saucer in a smaller size than the saucer I used for the accent bead. I like that look because it ties the beads together but also keeps the emphasis on the accent beads. To add the saucer at the top, I am going to string it onto the single excess wire.
Next, we are going to create a loop using the excess wire. This loop is what we will use to attach the earring wire. To create the loop, we will use round nose pliers. Hold the pliers around the wire, slightly above the top of that bead to create a little bit of breathing room. Now take the wire and wrap it first down and then around the nose pliers. By wrapping the wire around the pliers, we are creating that loop. Now we need to secure the loop. With the pliers still in place, bring the excess wire so it's at a 90-degree angle, perpendicular to your loop. Then twist the excess wire around the bottom of the loop three times. That will hold the loop in place.
Now we are ready to take our earring off of my pliers. Now we get a good look at the loop we created. Now it's time to snip off that extra wire. Make sure you get in there nice and close. I really like to point down towards where I'm going to cut, apply some pressure here, and snip.
Step 6: Attach earring wires
Now we are ready to add the earring wires. For this project, I'm just going to use a really simple gold fill French hook. These are high-quality earring wires that are so simple to use. To add the earring wires onto the loops we created, use the round nose pliers to gently uncoil the little French wire. Add loop on the hoop earring to my ear hook and coil it back up. And then we ill do the same thing to my other one. I love a project like this that comes together with an easy step at the end.
And now you have your finished hoop earrings!
I hope you love these colorful hoop earrings as much as I do. As you can see, these are such an easy and cheerful project for this time of year. Perfect for making on a weekend, too.
Thank you so much for watching my video jewelry making tutorial. Please let me know what other tutorials you want me to make next in the comments.
I plan to wear these colorful hoop earrings this weekend because I enjoyed making them so much! This really is a fun jewelry making project that you can easily make in an afternoon. We are always here to help with any technique questions you have, as well as to provide ideas, inspiration, and jewelry making supplies.