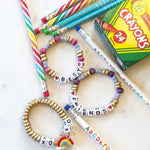 Not Too Cool for School: My Favorite Styles for Students
It's the start of August, which means summer is coming to a close and back to school shopping is in full swing. But while you're buying school supplies and new clothes, don't forget beaded accessories to complete your back to school look!
Here are the top styles every student should be considering for their fall wardrobe:
1. Beaded chokers are the perfect piece for any middle or high schooler.
Chokers have been a staple necklace for teens for a few years now, and it won't be any different this fall. Who doesn't love expressing your personality with bright colors, fun charms, or even letter beads?
A new trend with chokers? Making them a little longer and looser. Girls are tending to make their chokers sit a little lower on the neck as opposed to high and tight.
And if you have an old choker that's too snug for comfort these days, you can always add a little chain on the back to give it some length!
2. Show off your school spirit with beads featuring your school colors!
Are you ready for some football? Even if you're only in it for the tailgates and socializing, it's super fun to have accessories that match your team's colors.
Chokers are always a great option, but if you want to really get into the spirit, consider a long statement necklace! Wooden beads come in many different colors and are super lightweight, making them a go-to choice for outdoor-wear.
And here's a fun picture of my sister, Anne and me and our husbands, Andrew and David, cheering on the Tennessee Volunteers!
3. Make jewelry for all of your sorority functions.
If you're in a sorority, you know you'll need tons of jewelry for formals, balls, and other Greek events! Having bracelets, necklaces, and earrings with your sorority's colors is a must!
And if you aren't in a sorority, but plan to rush, stock up on looks like tassel earrings and necklaces, pearls, and beaded bracelets.
4. Friendship bracelets are so much more than matching beads.
Forget everything you think you know about friendship bracelets—these days, the possibilities are endless! Friendship bracelets aren't just about having the same jewelry as your friend. In fact, these days friendship bracelets don't even have to match. And they don't even have to be bracelets!
Making chokers or bracelets with your friends is a great way to build your friendship. It's fun, it's creative, and you're spending time together! And your options are pretty much endless.
Make matching jewelry, make jewelry for each other, or make jewelry that have one piece that's similar, but the rest is completely your own style. The important thing is that whenever you wear it, you think of your friend 🙂
5. Speaking of bracelets, you can never go wrong with stackable stretch bracelets!
Stretch bracelets are so easy to make and so easy to wear. If you're looking for a simple way to accessorize, these are for you. Students of any age or grade with love how feminine they feel with a few beaded bracelets stacked on their wrists!
These are especially great for students who wear uniforms—you can show off your personality with your jewelry instead!
Your one-stop shop for back to school beads…
Wondering how you can make your own jewelry for when you go back to school? First, visit our shop to stock up on your beading supplies!
Then, visit my YouTube tutorials to start creating your favorite back to school look! I can't wait to see what you create!