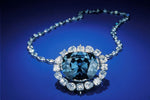 Celebrating American Jewelry Throughout the Years
In honor of the Fourth of July, I wanted to take a look at some iconic jewelry in our country's history. From First Ladies to celebrities to beloved movie and television characters, our country has some timeless pieces that will be treasured for years and years to come.
Here's a look at some of my favorite American jewelry moments:  

1. Holly Golightly's timeless pearl necklace in
Breakfast at Tiffany's
.
Every woman remembers the opening scene of Breakfast at Tiffany's. Audrey Hepburn's Holly Golightly arrives in a taxi cab to Tiffany & Co., breakfast and coffee in hand, and a gorgeous string of pearls around her neck.
Kenneth Jay Lane designed the five-strand faux pearl necklace for the movie, and 45 years later, the designer re-released the necklace as costume jewelry for the next generation. The pearls are clasped in the front with a flower made of Swarovski crystals for an extra touch of elegance.
2. Grace Kelly's 10.47 carat diamond engagement ring.
Meghan Markle isn't the first American to marry a prince! Grace Kelly famously married Prince Rainier III of Monaco, after he proposed with a 10.47 carat diamond ring. She even wore it in her final film, High Society.
Grace was known for her lavish jewelry on-screen, usually donning diamonds and pearls designed by Cartier (who also designed her engagement ring). While she ended her film career to become a princess, she continued to inspire women with her classic and tasteful style.

3. Barbara Bush's iconic pearls.
Barbara Bush left behind a wonderful legacy—including her love for pearls. But did you know that most of the necklaces she wore were actually costume jewelry?
Kenneth Jay Lane, who designed the pearls for Breakfast at Tiffany's mentioned above, also created stunning statement necklaces for the former First Lady.
After Mrs. Bush's passing this spring, the Kenneth Jay Lane brand has released a Barbara Bush collection, with partial proceeds supporting the Barbara Bush Foundation for Family Literacy.
4. Carrie Bradshaw's "Carrie" necklace from
Sex and the City
.
Even if you consider yourself a "Samantha," you can't forget the "Carrie" necklace worn by Sarah Jessica Parker's character in Sex and the City.
Nameplate jewelry was huge in the 1990s and early 2000s, and within the past couple of years, we've actually seen the trend coming back. But these days, nameplate jewelry doesn't have to be in script—give it a modern twist with stamped letters on a metal bar for a more subtle look!
5. The
Tin Cup
necklace.
When Rene Russo signed on to star in 1996's romantic comedy, Tin Cup, she probably didn't realize her character's necklace would start a decades-long jewelry trend—especially considering the movie prominently featured golf!
After the movie's premiere, women everywhere wanted their own version of the pearl necklace, with the pearls famously separated with gaps made of silk or chain. To this day, pearl necklaces in this style are called "tin cup necklaces."
6.
Titanic
's "Heart of the Ocean" necklace.
There are so many moments that are unforgettable about Titanic—the kiss on the bow, the emotional ending, and the necklace Rose wore, known as the "Heart of the Ocean."
Even though the necklace seen in the film isn't real, it is based on a real diamond—the Hope Diamond. And while both are blue diamonds that belonged to wealthy women in the early 20th Century, the Hope Diamond was never aboard the Titanic.
7. The Hope Diamond.
And speaking of the Hope Diamond…
Is there anything more American than visiting the nation's Capital? And while you're there, be sure to stop by the National Museum of Natural History, where you can see the Hope Diamond on display.
Although the Hope Diamond's 45.54 carats don't make it the largest in the world, it's certainly the most famous. Though the precious stone originated in India, it has been in America since the early 20th Century, and on display at the Smithsonian since 1958.
What's your iconic piece?
Sure, you might not have a diamond weighing in at over 45 carats, but that doesn't mean you can't have your own iconic piece of American jewelry! What better way to beat the heat than with an indoor hobby like DIY jewelry?
Head to my tutorials page to find out what styles you can be creating next. And remember that all of your jewelry supply needs are available at my store, Beads Incorporated.