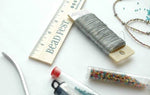 How Bead Fest Made Me More Passionate Than Ever About My Craft
I love attending Bead Fest in Philadelphia every August. While it might not be as big of a buying trip as some of the other national shows I attend, this is where I get to come together with fellow bead-lovers and indulge in all things beads.
What I didn't expect is that my trip this year would reignite my passion for what I do. Now, more than ever, do I believe in what I'm doing as a young, bead professional.
Read on for my takeaways from this year's Bead Fest:
My appreciation for bead work always increases after watching artisans perform bead-making demos.
I am fascinated by the talent and discipline of bead artisans every year at Bead Fest. Lampwork artists, who create glass beads, use a flame to manipulate glass into spectacular sights, like the ones below. And getting to see their finished work at Bead Fest is always a treat!
I also love the artistry of ceramic, porcelain, metal, and seed bead artists. Each artisan designs the most gorgeous pieces—starting with a raw element and turning it into a stunning statement. Seeing the work that is put into each and every bead also gives a different perspective into just how special beads really can be.
Meeting others in the industry allows for a great dialogue on all things beads!
As I walk from booth to booth and speak with artisans, vendors, and other participants, we begin to trade ideas and inspiration. I'm constantly learning from those around me, while at the same time, sharing my own ideas, styles, and helpful tips I've picked up over the years. It's such a great community to be a part of!
I especially love hearing the stories about how people got into beading. A mom wanted a hobby for when the kids were at school. A husband, who got started with glasswork, began designing beads for his wife. Or a woman, who struggled with anxiety, found serenity in her jewelry designing.
Making jewelry isn't just for fashion—it's a way to express yourself and find what makes you happy!
I get to bring new goodies to the store!
Bead Fest always has something interesting that I must get for the store, and this year was no different. I fell in love with these little characters and knew they needed a new home—Christine White Style!
There's always a new trend I'm excited to try.
Just like in fashion, there are trends in "bead world" too. I love seeing what the up-and-coming styles are for beaded jewelry, and Bead Fest properly kicked off the fall styles.
During Bead Fest, I saw lots of navy, mustard, purple, and red (the same colors we're seeing on the runways!). And just in time for fall, wood beads are available in most of those colors!
I also saw delicate charms, either as standalone pendants or clustered together with lots of other charms for a completely different look. I can't wait to start making my own versions of these for myself (and maybe even the store!).
The most important takeaway from Bead Fest:

What I do matters

.
While walking around Bead Fest, I began to notice something. I was one of the only people my age there. It seems millennials as a whole aren't too passionate about beads. I'm going to change that.
I have never been so inspired to be doing what I'm doing in my industry. My mission—if we're going to get that serious!—is to ignite a passion for those my age and younger for beads and jewelry making. It has made such an impact on my life, the lives of countless other women, and should continue to be an inspiration to the next generations!
If there was one thing I walked away from this past Bead Fest, it was that where I am right now is where I want (and need!) to be. I will continue to make tutorials, run my store, and attend shows around the country to help encourage future generations to become bead-lovers, just like me 🙂
Want to find your own jewelry-making passion?
If you're looking to make beads and jewelry-making a part of your life, you'll find everything you need to get started right here at our store.
And once you have your materials, watch my tutorials for step-by-step guides on how to make easy, but beautiful, jewelry.