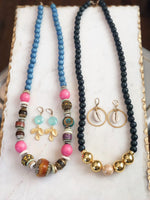 Finding Your Favorites: Pieces for Every Personality Type
One of my favorite things about the beading community is just how diverse it is! Some beaders are into fitness—others can't get enough blockbuster movies!
But no matter what your other hobbies and interests are—or if beading is literally the only hobby you have time for—there's the perfect piece out there for you.
Take a look at some of the personalities I see in the store regularly, and the types of beads they love to get their hands on!
The Soccer Mom
Moms love beading. It's a great hobby to take with you to soccer practice or drama rehearsal. It's also super therapeutic after a long day with a toddler! And it's a quiet enough activity when the baby is (finally!) sleeping.
Moms are all about jewelry they can throw on with a cute top and pair of shorts, but still look nice. Long, beaded necklaces with tassels are one of my favorite looks for fashionable moms. And you can never go wrong with lightweight wooden beads, especially on stretchy bracelets!
The Designer Diva
For those of you into designer-everything, pave beads add that sparkle and little hint of luxury to any beaded piece. I'm also a huge fan of diamond-anything, like these fantastic rough cut diamond pendants!
Chain is also an eye-catching compliment to any outfit. String a diamond pendant on chain for an upscale look, or maybe make a Kendra Scott-inspired choker with a druzy charm. It's absolutely possible to be DIY and designer at the same time!
The Young Beader
If you're just getting into beading, chances are you're under the age of 25. And if so, chokers might be your favorite thing. Chokers are great because you can never have too many of them. Change up your colors, change up your charms (stars and moons, anyone?), and show off your personality (maybe with some letter beads?) every day with these beaded beauties.
Another great look for the younger generation of beaders are wrap bracelets. I love how these simple bracelets make such a fun statement—without taking away from your overall look!
The Classic
Does the thought of Audrey Hepburn outside of Tiffany's warm your heart? Then you're probably into the "Classic" look. Think pearls, think polished stones—think pink!
Sometimes, the "traditional" look really is what's best. It's timeless—you really can never go wrong!
The Corporate Climber
Nothing says you're ready to climb the corporate ladder than a strong statement necklace made of mixed metals. Walk into that client meeting confidently, decked out in darker colors, like indigo, charcoal gray, and even black.
Another pick for the office? Geometric shapes, especially as earrings!
The Bohemian
Shells. Bone beads. African-inspired pieces. These are some of the styles you might see on your Bohemian friend. While the Bohemian "look" has actually been around for centuries, it became most popular in America during the 1960s and 70s. Then, in the early 2000s, celebs like Sienna Miller and Kate Moss introduced us to boho-chic.
Drawing from the arts and the earth, the bohemian look favors the natural as well as the inspired. Combining different elements and textures creates a look perfect for a weekend at Coachella or Burning Man.
The Adventurer
Does backpacking through Europe or Asia sound like an ideal vacation to you? Then you just might be an adventurer!
Beaders with an adventurous spirit usually have small, but meaningful talismans they've picked up during their journeys. Often, their charms are featured on a brightly colored cord or amidst brightly colored beads. Because if you find a shark's tooth while scuba diving in the Great Barrier Reef in Australia, you should probably show that trophy off to the world!
The Yogie
Have you mastered Warrior III pose? Then chances are you're into yoga!
Chakra beads are a favorite in the yoga community. When you wear a chakra bracelet, you're helping keep all seven chakras in balance—which is what yoga is all about!
Lava beads come from the earth's interior and are thought to "ground" us back to Mother Earth. And you can even add a few drops of your favorite essential oil to the natural beads to bring additional peace and calming.
The Eclectic
Feel like you identify with a bunch of these "personalities?" I hear ya! There are so many fun styles, it's hard to stick with just one.
Guess what? You don't have to! Mix and match to your heart's desire. Create a piece with a little bit of this and a little bit of that, or wear one style on Monday and completely different one on Tuesday.
At the end of the day, beading is all about expressing yourself through jewelry. I love seeing what our customers come up with when they sit at our tables or what they wear when they come in to shop and take beads home.
Embrace your beading personality
So… Do you know who you are? Then it's time to get beading! Watch my online tutorials to get started, and remember to visit my shop to stock up on all your beading needs!