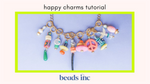 How to make charms for bracelets and jewelry making projects
In today's jewelry making video tutorial for beginners, we are learning how to make charms to add onto bracelets, necklaces and earrings. You'll learn how to create your own colorful charms using beads.  
I called today's technique Happy Charms because they're sure to put a smile on your face. It's so much fun that we can create an easy, simple charm that you can wear, share and collect. I love using these charms to make bracelets and necklaces, but you can also use them for earrings or any other jewelry making project you can create.
Supply list
Materials you'll need to create these charms:
lobster claws, earring wires or chain of your choice.
 Click here to shop our easy happy charms kit! 
How to make charms video tutorial
Watch my jewelry making video tutorial below and then follow along with the step-by-step instructions. 
How to make your own charms for jewelry making
Step 1: Choose your beads and plan your color scheme
Begin by gathering bright colored beads. A lot of mine have a novelty factor to them. I like to choose things like bird shaped beads, evil eyes, heart shaped, stars, moons - just things that are fun and cheerful. We are going to layer these beads to create the charms, so keep that in mind as you plan and choose your beads. I also have some rhinestone rondelles to add a little bit of glitter to what I'm doing and kind of tie them all together.
I'm working in a gold color scheme, but you could certainly choose one that you prefer, like gunmetal or silver. I'm using gold headpins, chain, and lobster claws. You could also add accent beads like gold hematite beads to really bring that metallic color scheme into your design.
Designing these charms is so fun and creative. Because we are making several charms to be used on one project, it is fun to mix and match the beads to create a variety look. As I mentioned before, I like to use unique charms so there is a lot of different things to look at. These charms would also be really beautiful in a monochromatic or all metallic color scheme for an unexpected pop of interest in a neutral accessory.
Step 2: Stack beads onto headpin to create charms
I'm going to begin by stacking my beads on my headpin in order that I might want them. So maybe a green bead like this, a rhinestone rondelle, an evil eye, another rondelle and a heart. And I'm going to add that to my little collection of happy charms that I've already strung.
Step 3: Secure beads to headpin by twisting
So I'm going to use my round nose pliers and hold this charm just slightly above the top of that bead with a little bit of breathing room in there.
I'm going to take this top piece and wrap the pin away from me and back towards me coming up under the pliers, really creating a nice ninety degree angle and then beginning to twist that head pin around itself, really watching where that coil is formed, similar to how an earring head pin is tied off. I'll twist two to three times, maybe even four. And then taking it off of my round nose pliers and simply snipping off my excess wire from the head pin.
Step 4: Attach jump ring to turn it into a charm
In order to make this into a happy charm, we're going to use a heavy duty jump ring. So this is going to give us that flexibility to switch this out and try it on lots of different pieces of jewelry, whether it's our chain or a lobster claw or even a hoop earring. So we will use two pairs of flat nose or chain nose pliers to gently rotate that jump ring open and slip on my happy charm and then just gently close it. Make sure this those ends of the jump ring are nice and flush.
And there's my first one. I'm going to finish out tying off all of my other cheerful charms here. Again, just wrapping them around my round nose pliers and twisting these closed. I'm going to add jump ring to the top of this one. And close this again with my flat nose pliers.
Step 5: Add charms to your bracelets or other jewelry making projects
There are so many different jewelry projects you can add these charms to. You can create shorter versions and add them to stretchy bracelets. The movement really creates a fun addition to a bracelet stack. One of my favorite things to do with these has always been to add them to a big statement lobster claw and wear it as a necklace. In this example, I've loaded all the charms onto an oversized pave lobster claw. If you don't prefer pave, you could always use a matte colored one or just a very simple one.
You can see that you can have so much fun switching these charms out and trying different combinations of colors, sizes and combos.
Thank you so much for joining me in the Beads, Inc. studio as we learned how to make charms for bracelets and jewelry making projects. Please let me know what other jewelry making video tutorials you'd like to see.