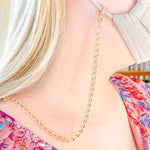 mask chains can be created just about any way you want, but a swivel clasp allows for tons of movement on either end. to see all of the mask chain tutorials we offer, check out our mask chains page here.
create a mask chain, or simple chain necklace, just by attaching clasps to the end of a length of chain using jump rings. you'll need two pairs of pliers or crimpers, or a combination of the two, but that's it! this type of mask chain is extremely simple while being totally glamorous. 
we went with a swivel clasp to ensure ease of movement, but you can select any clasp your heart desires. 
we used about two feet of this chain, which puts it on the longer side for mask chains.
products used:
related projects:
rolo chain long pavé charm necklace
more resources: 
all about jump rings
all necklaces
related products: