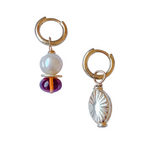 create your own huggies charms
huggie earrings are great on their own, but it's quick & easy to create one-of-a-kind custom charms for your pair of huggies. we're loving the asymmetrical look, but there's no shame in creating two identical charms!
if you have ever wire-wrapped, or created your own charms with loose beads & headpins, this is essentially the same process. 
to create your own charms, all you need are beads of your choosing, headpins of your choosing, round-nose pliers, & cutters (plus huggies themselves of course).  
 stack your chosen beads on the headpin.
use your round-nose pliers to twist the tail of the headpin into a circle.
once the circle meets the base of the bead, wrap the wire around the top of the bead 2-3 times, or as many times as needed to fill the space to your liking. 
trim off the excess wire, & your charm is ready to add to your pair of huggies!
these charms can also be added to bracelets or necklaces, stacked or singularly. you can of course also use small charms already available! 
need a refresher on wire-wrapping? click here for a full step-by-step tutorial.
products used:
related products: 
shop all loose beads
shop all charms
related projects: