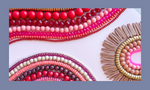 Jewelry Making Inspo: Extreme Luv Valentine's 2021
this year, we're focusing on celebrating love in some under-appreciated forms - self love, family love, friendship love, & of course, the love of beads.
if there's one thing the pandemic has taught us, it's to appreciate what we have, right? 
our collection for valentine's day is full of pinks, reds, purples, & hues in between, in an attempt to welcome any & all types of love our customers may be celebrating.  
shop the collection here: Extreme Luv